NATALIJA PHONO MM/MC III
Phono tube preamplifier
---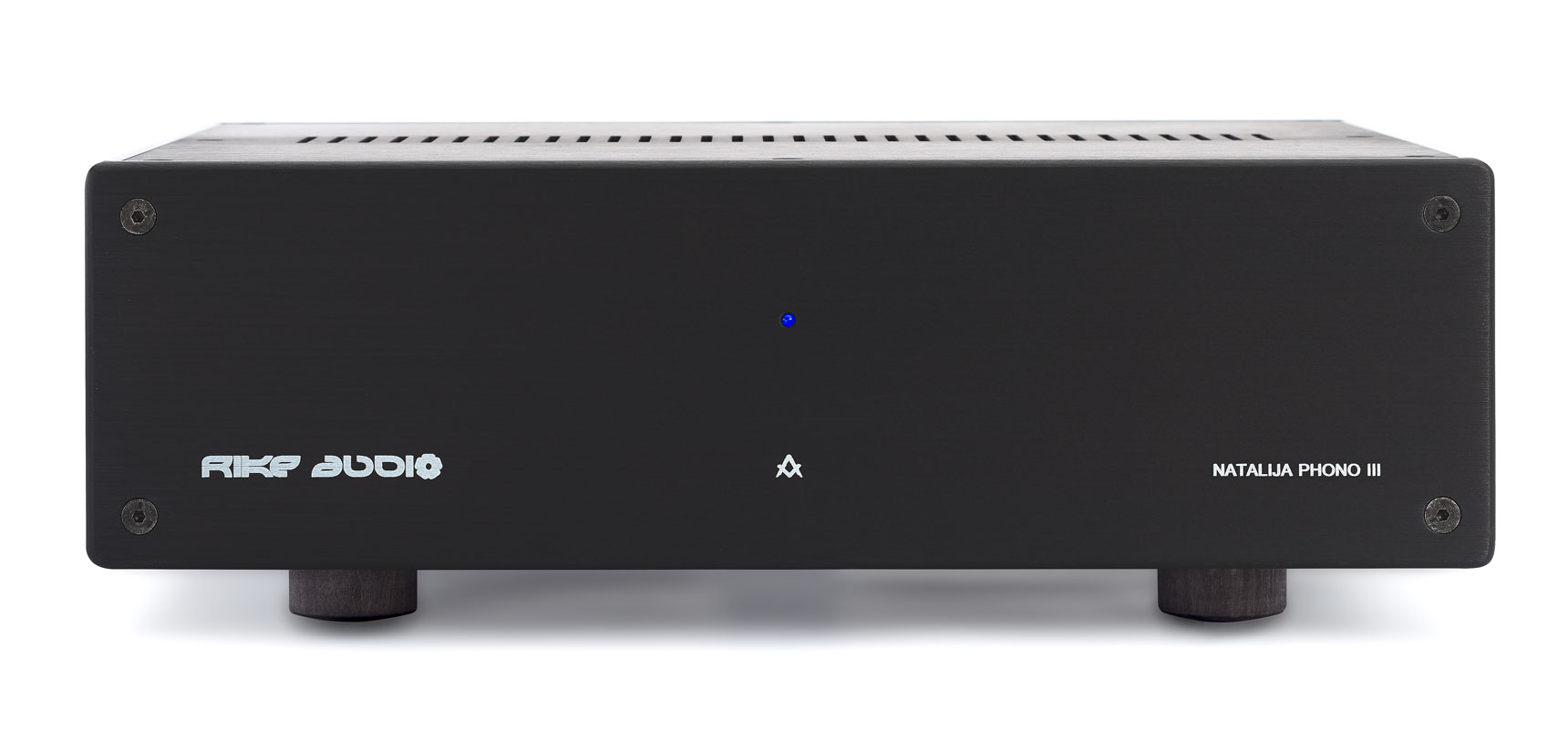 Natalija Phono MM/MC III from Rike Audio is a top-quality, top-featured and top-sounding phono tube preamplifier of genuine world-class calibre.
Compared to its predecessor, which was highly praised by end customers, retailers and the trade press alike, the unit has again been significantly improved in numerous points:
completely revised circuit design
new circuit board layout with enlarged ground plane and optimised ground routing for exemplary quietness in the sound image
newly developed and optimised Rike Audio electrolytic capacitors for higher efficiency and extremely fast signal processing
new internal cabling made of innovative material mix (silk, cotton, paper) for highest signal purity
completely new, extremely solid aluminium enclosure with 2.5mm thick front and rear panels and elaborate internal bracing to minimise parasitic resonances
even higher quality Lundahl transformers, specially manufactured for Rike Audio
extremely high-quality and sound-neutral DIP switch specially manufactured for Rike Audio for even more extensive adjustment options plus extra socket for resistor value and type as desired
intensive cleaning and sealing of sound-relevant components such as RCA sockets, tube pins and tube sockets with Audiotop Connect Workstation to permanently minimise corrosion and contact resistance and preserve maximum signal integrity.
The Natalija circuit is based on two 6HM5 (EC900) tubes per stereo channel. This HF triode is perfectly suited for demanding audio applications. Why is it nevertheless extremely rare to find in hi-fi equipment? Because its implementation requires an extraordinary amount of circuitry and know-how. On top of that, we have succeeded in transforming the 6HM5, which is already very stable in principle, into a real long-life tube that will give its owner many thousands of hours of unadulterated listening pleasure.
Category: Phono preamplifiers
Inputs: 1 x MM + 1 x MC (RCA/Cinch)
Output: 1 x (RCA/Cinch)
Input impedance: 47kOhm (MM)
Gain factor: 41dB (MM)
exquisite Lundahl transformers in the MC branch, specially manufactured for Rike Audio
extreme flexibility thanks to switchable MC gain (+20 dB or + 26dB) and MC impedance (20, 50, 100, 200, 500 ohms) plus extra socket for soldering in any desired resistor value
individually measured resistors and capacitors for high-precision passive RIAA equalisation (+/- 0.3dB)
6HM5 quartet individually matched for each unit for negligible noise, lowest microphony and perfect channel symmetry
unsurpassed component quality incl. in-house Rike Audio capacitors and extremely close-tolerance measuring resistors
oversized, low-noise, four-stage power supply unit
contact-safe ceramic tube base
hard gold-plated input and output terminals
Finest craftsmanship made in Germany
Warranty: 24 months