Rike Audio · The Philosophy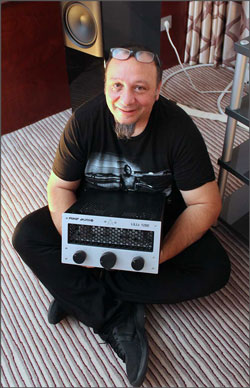 At Rike Audio we don't favor tubes over solid state or vice versa. Our renowned expertise in both fields ensures you always get the technology or technology mix best suited to achieve optimal results.

Alas, even the smartest circuit design on paper won't help much if its realization lags behind. That's why parts quality and standard of finish you'll find in your Rike Audio component will beat virtually any comparable product we know of.

Our hand-selected tubes and transistors, individual parts and raw materials do not only meet or surpass the toughest industry tolerances. At the same time we make sure everything's available in sufficient quantities and should thus remain affordable and serviceable in the forseeable future. After all, any Rike Audio component is an investment for life.

We spend a great deal of time and money developing products that are as environmentally compatible as possible. At the same time they are extraordinarily durable, reliable and sustainable. If there's no suitable supplier of a certain part – e.g. capacitors – we make our own. We firmly believe components made of natural, non-toxic materials do not only serve the preservation of creation. They actually sound better, too!

Georg Arsin
---
Georg Arsin · The boss
Passion, creativity and innovation
As a student, Georg Arsin began to carry his audiophile passion into the world as a DJ. He later worked as a radio presenter and music editor at WDR and MDR.
Georg has been developing amplifiers and audio capacitors for over 25 years.
The interest in capacitors came from dissatisfaction with the products on the market.
The highest priority is therefore the best quality and a highly specialized function.
Friend and mentor Alfred Rudolph was on hand to provide advice and support in many developments.
·
check_circle Best quality
check_circle Individual advice

check_circle High customer satisfaction

Georg's YouTube channel open_in_new

·
Rike Audio · The production process
ultra high end made in germany
The development and manufacturing of a high-quality audio capacitor by hand is extremely complex. The exact winding takes a lot of time. The perfect execution is the result of a development process that often takes years.
Most components come from our own production in the company workshop. However, some special components cannot be manufactured in-house. Certain materials have to be purchased, whereby only reliable suppliers are selected.
The use of ecologically harmless materials is the top priority. This is why innovative materials that are atypical for capacitor construction are often used. Some materials could be eaten - apart from the low enjoyment value.
It is often important for the customer to find out which capacitor is the most suitable. With decades of experience, we are happy to provide advice.
·
Rike Audio · The design
The eyes listen
Design is an important aspect of our tube amplifiers. We were very lucky to be able to win the great designer Julian Hönig for our design concept.
Mr. Hönig is known for the design of Will Smith's vehicle in the film »I, Robot« as well as his commitment to Audi and the design of iMacs and iPhones.
Our audio capacitors are characterized by their individual appearance due to the production by hand. With the capacitors, the sound and the functionality determine the design.
·
Credentials
image hifi Magazin about Rike Audio Natalija: »Rarely, very rarely have I held an audio component in my hands where the offer was so dramatically above the price. A very deep bow to Georg Arsin and his team, who have a real hammer in their program.«
Mint Magazin: »The phono preamplifier Natalija from the Fürth manufacturer Rike Audio is really not cheap. But hearing it is a terrific experience.«